In Mark's first book, he brings good news – God has a brilliant plan that can empower you to live the easy and light life Jesus promised!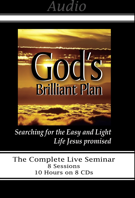 God designed this brilliant plan so that you can:
Break free from the tormenting grip of fear, shame and condemnation…and start living in unwavering peace and abounding joy!
Stop the painful cycle of promise-making and promise-breaking to God…and start enjoying the transforming power of the Spirit!
Get off the treadmill of constant re-dedication and re-commitment…and begin experiencing the power of Christ living in and through you!
What are others saying about God's Brilliant Plan?
"The significance and scope of the change from the Old to the New Covenant is one of the least understood matters in the Church.  In a warm and engaging style, Mark Drake highlights the importance of…living in the reality of this shift."

– Dr. Stephen R. Crosby, Professor, Pastor, Author
"Page after liberating page made my heart cry out 'FREEDOM!!!'  We are  translating this book into Asian languages as quickly as possible so we can equip thousands of leaders to become channels of God's Brilliant Plan to their people."

– Jim Harris, President, Relevant Expeditions
"Our whole approach towards ministry has been affected because of Mark's message about the transforming power of God's grace as the 'unearned life of Jesus living through us'."

– JR Markle, Pastor
You can purchase any of the books, DVDs or study guides by clicking on the links below, which will take you to Paypal Checkout where you can pay via Paypal or Credit Card.
International orders- please email us with the items and quantities you wish to order for shipping rates, as shipping for international orders varies from US orders.